Back to selection
Into the Splice: After the Flood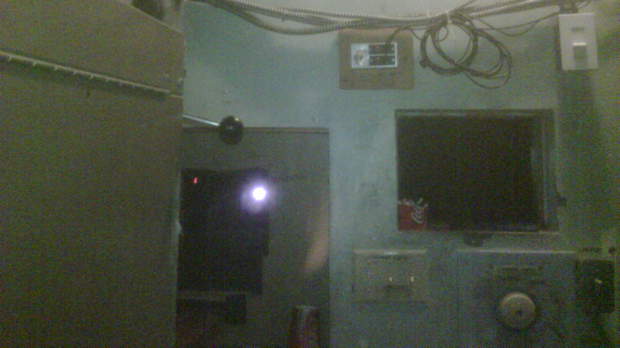 Downtown Waterloo, Ontario. At night. A night unfinished. The previous evening I had spoken at a conference about analog nostalgia in the digital age. I brought a turntable with me from Michigan. And one single to play: "You're Gonna Die" (1978) by the Ann Arbor/Detroit post-punk art band Destroy All Monsters, featuring Ron Asheton on guitar. At the border crossing entering Canada at Port Huron, I was asked a series of questions about the reasons for my visit to Canada. I answered in ways that made the guard skeptical, and I was told to go directly to Immigration. There, a smooth-faced Canadian in a bulletproof vest asked me a series of questions about myself. The fluorescent lights flickered. My knee locked up on me. I felt guilty for crimes I had not committed. I was nervous about my presentation that night. I had Bufferins in my pocket. I worried that the turntable would be a bust. That I would look like a hipster.
The man at Immigration made a joke about security at the borders. I wasn't sure what he meant. I wanted to laugh, but wondered. Everything, lately, in my life has been a trap. Was this a trap, too? He held my passport in his hands, casually. In this way, he exercised his power. The power of a Canadian over an American. I didn't blame him. I was tainted from south of the border. I was proud of being tainted. I was to speak that evening, at The Museum in Kitchener, about resistance to the hegemony of digital media, which is always-already everywhere. The week before, I had snuck my camera into Paranormal Activity 2 and secretly taped about 35 seconds. I planned to show this as part of my talk, but worried—against all reason—that someone in the audience might call me out for stealing these images.
The talk went well. I was ferocious with confidence. No face frightened me. I felt imperial. The next night, a friend took me to a screening of the Margaret Atwood book tour documentary In the Wake of the Flood. Margaret Atwood is a Canadian treasure. In the United States, I have taught her novel Surfacing many times, and each time it pulls me deeper into the bottom of its lake. She is a mystery. A foreign correspondent in my mind. I would turn myself in to the authorities to understand her irony. I would empty my pockets and hard drives for Immigration.
But we went into the wrong theater, the Princess Twin on King Street instead of the Princess Cinema on Princess Street West. The movie was already playing, but it was A Film Unfinished. We did not know this. The manager, with long sideburns and a lumberjack shirt in blood-burst red, took the wooden drawer out of the cash register to meet us in the hallway. A thin curtain separated us from the auditorium. Through the curtain, we saw the Nazis, and realized our mistake. But instead of leaving, I asked if we could see the projection room. I had reasons ready, but he let us in without a word, and my colleague took two pictures with his cell phone.
Outside, on the streets, as we dashed towards the other Princess, it felt like victory. A weird sort of triumph over something, but what? It snowed for a few moments, then stopped. The moon came out. Margaret Atwood was talking somewhere on a screen, and we would find her soon. She would tell us about the importance of birds, and we would understand, all the while thinking, in the backs of our minds, that what we wished to say to Margaret Atwood was this: we know you love birds, but that's not why we love you. We love you because of your words.
Afterwards, we got into an argument about Barack Obama. You don't understand, I wanted to say, and then we accused each other of being hipsters and ordered cans of PBR. The waiter gave us trucker caps. She smiled. The hockey game was full of static. There were a million pucks moving in different directions. It was very, very late. A toothless man took the stool next to me and asked for help. A woman with a shocking red wig came into the restaurant, lit a cigarette and created a scene. The bartender said that the cook had returned, and was now taking orders.
We were surfacing, and going under. "I can't believe I'm on this road again," begins the novel and in those eight words Atwood has already trapped you. It's an entire philosophy, a whole metaphysical system, right there, punched out in letters on the page. We stayed until after last call. And then stayed even later. They turned the heat off. We were going to freeze to death. All of us. We were suddenly in Atwood's book, deep beneath something, and going deeper still.
Nicholas Rombes is author of Cinema in the Digital Age and A Cultural Dictionary of Punk, 1974-1982. His work has appeared The Oxford American, the n+1 Film Review, and McSweeney's Internet Tendency. His column, 10/40/70, appears at The Rumpus. He can be found at nicholasrombes.blogspot.com.